Farm Sustainability 2021
Dairy Cow Numbers
| | | | | | | |
| --- | --- | --- | --- | --- | --- | --- |
| Year | Peak Dairy Cow Numbers | Average Cow Numbers | Whole Farm Organic N | Total Kgs MS Sold | Kgs MS Sold/Cow | % 1st & 2nd Lactation |
| 2022 | 440 | | | | 480** | 40% |
| 2021 | 421 | 398 | 198 | 173,562 | 436* | 57% |
| 2020 | 402 | 379 | 195 | 167,138 | 441 | 59% |
| 2019 | 292 | 272 | 176 | 129,112 | 474 | 42% |
| 2018 | 268 | 253 | 166 | 111,151 | 439 | 67% |
| 2017 | 245 | 232 | 153 | 83,413 | 359 | 86% |
| 2016 | 299 | 258 | 180 | 104,671 | 404 | 73% |
*To 10th November** Estimate
Since 2016 dairy cows have increased by 41% at Salesian Agricultural College
Since 2016 whole farm organic nitrogen loading has increased by 10%
Since 2016 grass grown has increased from 8 T DM/ha to over 15 T DM/Ha, an 87% increase
Purchased fertiliser & concentrates have reduced by 18% from 2016 to 2020
EBI
| | | | | |
| --- | --- | --- | --- | --- |
| Date | National Avg EBI | Salesian College Herd EBI | Top 10% Herds EBI | Salesian College Herd EBI National Ranking |
| January 2016 | €136 | €66 | €191 | Bottom 5% |
| March 2021 | €127 | €187 | €166 | Top 1% |
In last five years we have moved from being in the bottom 5% of herds nationally based on EBI to now being in the top 1%
Each €10 improvement in EBI is associated with a reduction of 61.7 kg CO2 equivalents per Lactation
Our herd is emitting 370kgs less CO2 equivalent per cow per lactation compared to the national average dairy cow
Grassland
Annual tonnage grown last year was 15.36 Tonnes Dry Matter per Hectare (PastureBase), more than enough to sustain our stocking rate of 2.2 LU/Ha
We have incorporated Mixed Species Swards (ryegrass + plantain) but have found that the persistency of the plantain has been an issue so we are changing to oversowing clover into existing swards, targeting 15% of the grazing area per annum.
Despite experiencing drought in the last three years, we have always been able to grow sufficient forage and have in excess of 25% of our winter silage requirements in reserve
Slurry
All slurry is applied by Low Emissions Slurry Spreading systems, using an umbilical cord with dribble bar
This has been the case since 2019 and is applied by contractor using a flow rate meter where precise application rates can be achieved based on soil analysis and slurry nutrient analysis
75% of slurry is applied in the spring and this further reduces our use of chemical nitrogen
In 2021 the purchase of chemical nitrogen was reduced by 10% from the previous year
Yet 2021, a total of 14.25 tonnes of protected urea (9.5 pallets) remained in stock at the end of the year, and more grass has been grown in 2021
Fertiliser
The Farm has a Nutrient Management Plan, with the entire farm soil sampled every three years up to now, most recently sampled January 2021

91% of the farm is at pH 6.2 or above
79% of the farm is at index 3 or greater for Phosphorus
66% of the farm is at index 3 or greater for Potassium

Annual soil sampling of the entire farm will commence from December 2021
Carbon measurement will be included also
The estimated whole farm stocking rate for 2021 is 198Kgs Organic Nitrogen per hectare (2.3 LU/Ha) and the farm is in derogation
All chemical nitrogen application is by way of protected urea and this has been the case since 2019
All fertiliser applications are applied where both the tractor & fertiliser spreader have GPS and variable spread width technology. This typically leads to a 5-8% saving in fertiliser use as there are no overlaps.
ASSAP
Padraig Fitzgerald (Teagasc Kilmallock) and Kevin O'Sullivan (Teagasc Killarney) both ASSAP advisers undertook a comprehensive assessment of the farm and farmyards in September 2020.
No issues were identified
Biodiversity
A full farm Habitat Survey & Biodiversity Assessment was completed in November 2019 by Forest, Environmental Research and Services (FERS) Ltd.

This established out baseline position and from this we have a plan in place to
maintain and enhance all current habitats/biodiversity
strategically develop new habitats and biodiversity for maximum benefit
Selective Dry Cow Therapy
We have been pioneering the use of Selective Dry Cow Therapy since 2017 and have participated in the Teagasc/Kerry Agribusiness on farm trials
Over the last two years, we have managed to have 75% of out cows dried off at the end of lactation without the use of antibiotics
The above coupled to our Herd Health Plan drawn up in conjunction with our veterinary practice has led to a substantial reduction in antibiotic usage and forms part of our overall AMR strategy
Energy/Water
Our milking parlour is fitted with a heat recovery system and variable rate pumps to minimise energy usage
All was water used in the plant is recycled to wash the collecting yards
All water use is metered and this quickly identifies any leaks that lead to waste
Beef
We operate a dairy calf to beef system using AI sires by utilising the Dairy Beef Index with an added emphasis carcase weight within the index
To this extent we are participating in the Dawn Meats / Teagasc – Dairy Beef Project (DBP)
Sheep
The breeding policy is to breed to high replacement index rams (Belclare) and consequently the maternal index of the flock has increased linearly over the last five years.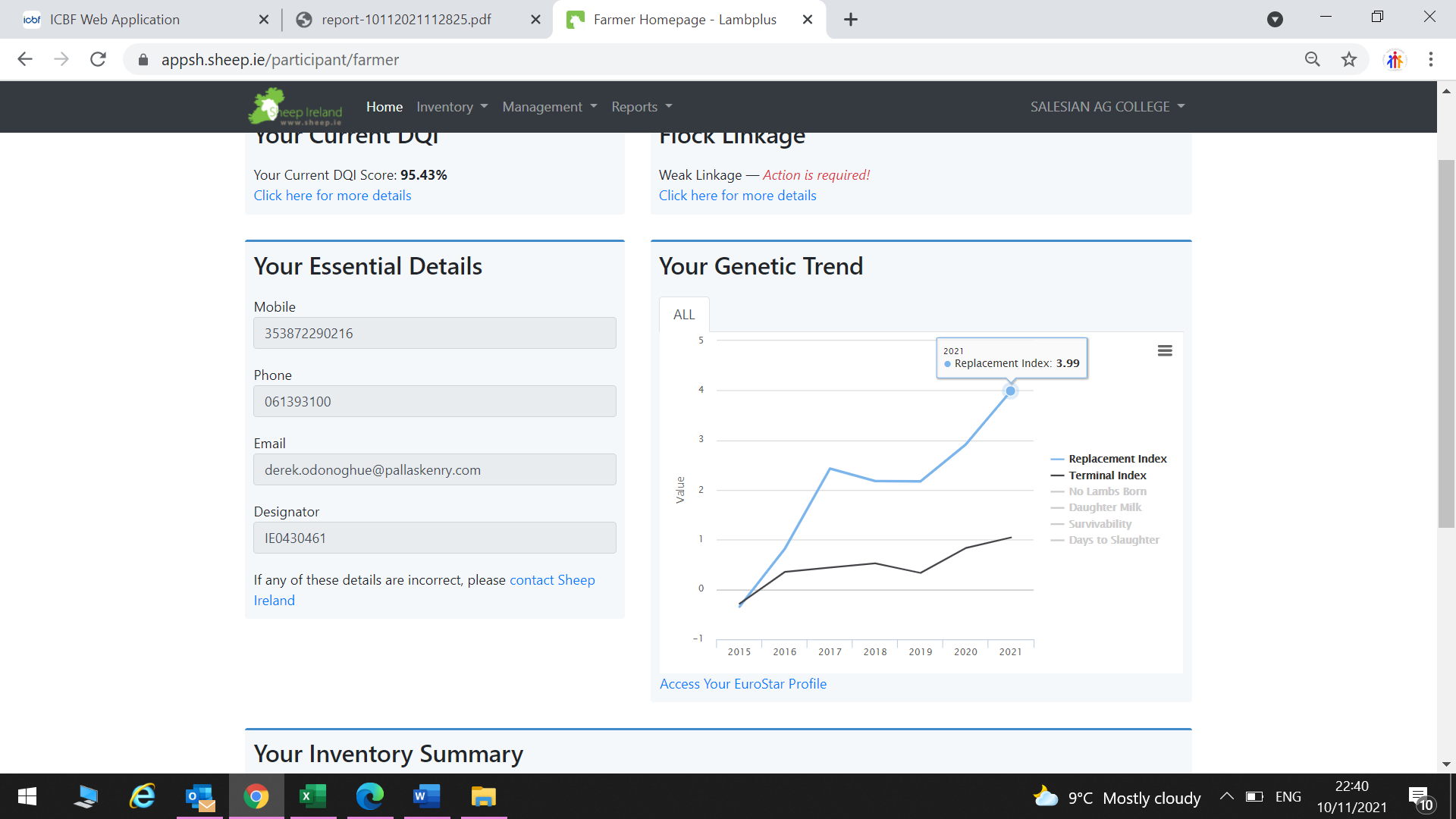 A high level of data recording is giving us a Data Quality Index (DQI) of 95.4%
80% of lambs are finished off grass without any concentrates being fed