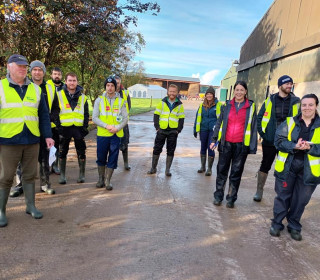 Distance Education Course starting October 2022 - Apply Now.
Teagasc Distance Education Green Cert Programme
(for Award Holders)
Course starting Saturday 15th October 2022

Attend college one Saturday a month for 16 months (timetable below)

Online content on Wednesday evening

Available to holders of a Level 6 or Higher Major Award Holders in non-agricultural discipline ONLY

Course fee €3,100

If you are 23 years or older and don't have a level 6 or higher major award email [email protected] to enquire about our "Part-Time Green Cert" option.
Days in Pallaskenry Timetables

An email will be sent to registered students before the start date asking them to choose which group they wish to join. Places will be filled on a first come first served basis
If you miss an exam or assignment submission date you must wait until the repeat dates
We cannot facilitate group swaps
Online content delivery starts on Wednesday 26th October 2022 and continue each Wednesday until the course is complete.
These sessions will consist of one of the following:
Tutorials (up to 1 hour duration maximum, these will be pre-recorded and available to you for viewing in your own time)
Guest Speaker from the Agricultural Industry
Email your queries to: [email protected] or call us on 061393100
Sample of Course Content:
Level 5:
Farm Business and Technology (5N20377)

Farm Safety and Farm Assurance (5N20371)

Work Practice (5N1433_CIA5)

Soils and the Environment (5N20374)

Beef Husbandry (5N20388)

Sheep Husbandry (5N20385) OR Dairy Husbandry (5N20396)

Principles of Agriculture (5N20368)

Start Your Own Business (5N1418)

Organic Farming Principles (5N20423)

Safe Use of Pesticide Products (5N20380)
Level 6:
Applied Livestock Breeding (6N3525)

Grassland Management (6N20472)

Farm Performance Measurement (6N3005)

Work Practice (6N1947)

Sustainable Farming in the Environment (6N20463)

Farm Management and Business Management (6N20462)
Applicants should note there will be a delay following the completion and awarding of certificates.
The "Green Cert" trained farmer status qualification comprises two awards: Level 5 Certificate in Agriculture and, Level 6 Specific Purpose Certificate in Farming. Your application includes both awards.
For each of these awards a number of quality assurance processes and procedures must be completed by us and Teagasc. Courses must be internally and externally verified, results approval and sign off, details exported to QQI for certification. This process takes a MINIMUM OF SIX MONTHS.