Level 6 Advanced Certificate in Agriculture - Dairy Herd Management
Entry Requirements:
Students who have completed the Level 5 Certificate in Agriculture, or equivalent course, are eligible to apply.
Course Aims:
To equip graduates with the knowledge, skills and capabilities for the role of dairy herd technician/manager on their home farm or as an employed farm technician, herd manager.
Duration:
12 months
Qualification:
On successful completion of the course students are awarded a QQI Level 6 Advanced Certificate in Agriculture. This also qualifies the graduate as a Young Trained Farmer
Progression:
Students who achieve this award are eligible to apply for the Teagasc Professional Diploma in Dairy Farm Management. Progression is also available through the Higher Education Links Scheme. Please contact the relevant higher education institute for further information.
Course Structure and Content:
Students spend 20 weeks on course work in the college.In addition students complete a 16 week practical learning period on an approved training host farm. While most complete this in Ireland, there are opportunities for completing the practical learning period abroad.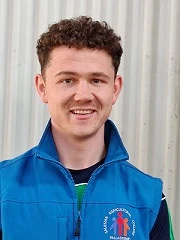 Testimonial - Brendan Ryan, Oola, Co. Limerick
I completed the Advanced Certificate in Agriculture (Dairy Herd Management) in Salesian Agricultural College because I had a great interest in dairy farming since I was very young. Growing up on a dairy farm, I knew there was only one thing I wanted to do for the rest of my life so this course was ideal for me.
I really enjoyed the practical side of the course, being out on the farm, getting hands on experience working with stock and machinery. The two placements were a real highlight for me, working with some of the best farmers in the sector and knowing they are people I can call on for advice or support down the line.
Some of the key things I learned during my time in Pallaskenry were good animal husbandry skills, good communication skills and working as part of a team.
After Pallaskenry, I went on to do the Professional Diploma in Dairy Farm Management in Moorepark, through which I met some great people and got to complete work placement in New Zealand.
The advice I would have for students in the future would be to get stuck in, make the most of your time in Pallaskenry and don't be afraid to ask questions.